Acupressure Self Care Slide Show:
Eye Health
​
Self Care Acupressure can benefit sore, dry, and tired eyes. Acupressure points can relieve pressure around the eyes and lessen eye irritation. Start this acupressure routine by washing your hands and lightly holding each point for at least a minute. Close your eyes as you hold the points, breath deeply, and relax your shoulders. Believe in your ability to change!
Bladder 2: Collecting Bamboo

Location: A finger width above the inner corner of the eye, at the eyebrow
---
Stomach 2: Four Whites & Stomach 3: Facial Beauty
Location: St 2 is located at the top of the cheekbone and St 3 is at the bottom of the cheekbone. Both are in line with the pupil of the eye.
---
GallBladder 1: Eye Bone
Location: A finger width away from the outer corner of the eye in a hollow
Powered by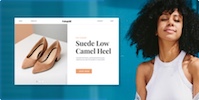 Create your own unique website with customizable templates.