It used to be a common saying in my yoga communities "the posture you dislike the most is the one you need.". I've thought a lot about that over the years. I respect teachers that believe this and spend time on postures they dislike, because I see how it could be beneficial.
I've always been puzzled by this statement because I enjoy all movements & postures. Nothing is a chore for me. There are movements that require more strength, which is challenging for me, but I feel grateful to be able to get stronger. There are poses that I'm too flexible for, and I've had to stop because I dislocate my knees and shoulders easily. Past pain & injuries have taught me to be smart in my movements.

I feel at home in my practice when I enjoy feeling the way my arms move. Every movement an extension of my heart.
Powered by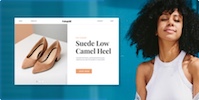 Create your own unique website with customizable templates.