I think of alignment cues as the beginning of a conversation. In this pose the directions might be to stand on the knees, hands to the hips, reach for the heels. Then the conversation is around my lower back, my ribs, sternum, shoulders. The conversation changes and flows and moves to different parts of my body.
When I started teaching yoga, I found it odd to tell people 'do this' to get 'that result', because everyone's experience was varied and multi-dimensional. But if the question to begin the conversation around the asana was there, and I offered people support as we asked more questions together, maybe the conversation would go somewhere we never expected!

That is how I teach myself yoga: one more question, one more question, one more question...
Powered by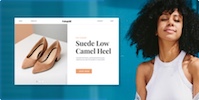 Create your own unique website with customizable templates.